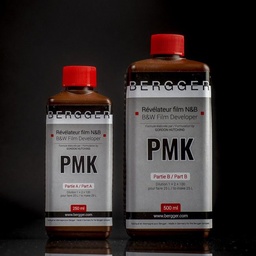 Bergger PMK 1 Liter (Part A 250ml + Part B 500 ml)
Bergger PMK 1 Liter (Part A 250ml + Part B 500 ml)
2
---
Die PMK-Formel wurde von Gordon Hutchings entwickelt, um einen universellen Entwickler zu schaffen, der an eine Vielzahl moderner Filme und an eine Vielzahl von Aufnahmebedingungen angepasst ist.
Mit der PMK-Formel lassen sich die folgenden Merkmale erreichen :
Schärfe der Konturen
Gelbfärbung (Stain) des Negativs. Die Intensität der Färbung hängt von der reduzierten Silbermenge ab
sehr niedriger Schleier (Fog)
Stabilität der Stammlösungen
Prozesswiederholbarkeit
Ein alkalischer Fixier ist erforderlich, um die beste Negativfärbung und die beste Stabilität des Negativs zu erhalten.
PMK wird in zwei Lösungen geliefert, die eine sehr lange Haltbarkeit haben, wenn sie nicht germischt werden.
In Standardverdünnung (1+2+100) erlaubt das PMK-Kit 25 L Arbeitslösung herzustellen.
Weitere Informationen und Anleitungen findet man in unserer Sammlung von technischen Unterlagen.
To install this Web App in your iPhone/iPad press
and then Add to Home Screen.