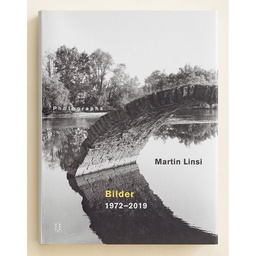 Bilder/Photographs 1972-2019, Martin Linsi
Bilder/Photographs 1972-2019, Martin Linsi
2
---
Mit Bilder | Photographs 1972 – 2019 ist Martin Linsis erste Monographie erschienen. Ausschnitte seines gesamten Wirkens als Fotograf haben darin Platz gefunden: Bilder von dampfenden Lokomotiven, die ihn schon als Jugendlichen faszinierten und denen er mit der Kamera nachreiste. Eine Reportage über einen jungen Kohlearbeiter, die im Zuge seiner Ausbildung zum Fotografen in England entstand. Jüngere Fotografien von traditionellen Schwyzer Anlässen wie der Einsiedler Viehschau oder des Muotathaler Käsemarktes. Und Themen, die ihn seit seinen Anfängen mit der Kamera und bis heute faszinieren: Wandel, Bewegung, Veränderung, deren Ausdruck im jung sein und älter werden, im jahreszeitlichen Verlauf, und im Niederschlag von Wetter und Witterung.
Martin Linsi mit Essays von Norbert Hummelt und Bernd Echte
252 Seiten, 22.5 x 30 cm
Leineneinband mit Schutzumschlag Duplex-Druck,
deutsch/englisch
Nimbus, Wädenswil, 2021
Weitere Informationen und Anleitungen findet man in unserer Sammlung von technischen Unterlagen.
To install this Web App in your iPhone/iPad press
and then Add to Home Screen.