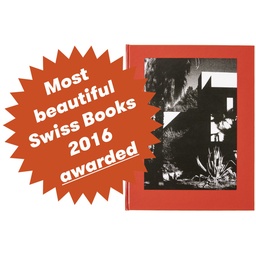 HELLO, I AM NOT FROM HERE, Peter Hauser
HELLO, I AM NOT FROM HERE, Peter Hauser
2
---
Winner "The Most Beautiful Swiss Books" of the year 2016
The first book release by young Swiss photographer Peter Hauser shows his straightforward, analog black and white pictures of nature and urban landscapes that yield a distinctive observation of perceptual phenomena: rectangles float; shadows fall into hard-edge shapes; surfaces reveal patterns and unlikely grids.
Photographer Edward Weston, who photographed patterns and structures in nature, drew a distinction between making pictures to learn about the world and those that impose a vision upon it. It was his intention to make pictures, he once said, not as "an interpretation, a biased opinion of what nature should be, but a revelation — an absolute, impersonal recognition of the significance of facts.". Peter Hauser's work is subscribing to this mantra. A study in elementary geometry, underscored by the pure black, white and grayness of the photographic print, "HELLO, I AM NOT FROM HERE" reveals a keen sense of trying to understand our environment by the means of recording it in a variety of greys. 
In the words of the artist: "HELLO, I AM NOT FROM HERE" is an investigation into environments, a visual exploration of the unknown, the unnoticed, an attempt, a description, a search for typologies in architiecture, geology, vegetation.
All photographs were shot on monochrome negatives between 2012 and 2015 in the south of France, USA, Sardinia, Zürich and Denmark.
first limited edition of 500
120 pages, 24,5 cm x 31 cm, hardcover, red leatherette with sticker image front and back, english
Sturm & Drang publishers 2016
ISBN 978-3-906822-01-3
Weitere Informationen und Anleitungen findet man in unserer Sammlung von technischen Unterlagen.
To install this Web App in your iPhone/iPad press
and then Add to Home Screen.