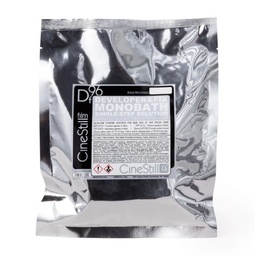 Cinestill DF96 Monobath Fixierentwickler Pulver
Cinestill DF96 Monobath Fixierentwickler Pulver
2
---
Cinestill DF96 Monobath Fixierentwickler Pulver für 16 Filme 1000 ml
Dieses ist die einfachste Form des Einstieges in die Schwarzweissentwicklung. Sie benötigen keine weiteren Chemikalien (bis auf ein optionales Netzmittel).
Man kann auch nicht viel falsch machen. Durch den eingebauten "Überentwicklungsschutz" eines Fixierentwicklers, erhält man fast immer ein brauchbares Negativ.
Alle Filme können mit 3 Minuten bei 27°C entwickelt werden.
Die 27° sind die einzige Kröte, welche man schlucken muss.

Pushen und pullen geht ebenfalls über die Temperatur.
Unter 24°C werden die Filme gepulled über 27°C gepushed.

In einem Liter Stammlösung können nacheinander 16 Filme verarbeitet werden. Die Stammlösung ist dabei immer wieder in den Kanister zurück zu schütten. Pro bereits entwickeltem Film muss die Entwicklungszeit um 15 Sekunden verlängert werden.


Weitere Informationen und Anleitungen findet man in unserer Sammlung von technischen Unterlagen.
To install this Web App in your iPhone/iPad press
and then Add to Home Screen.