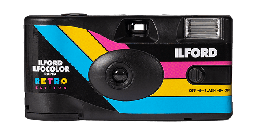 Ilford Einwegkamera Ilfocolor Rapid Retro Schwarz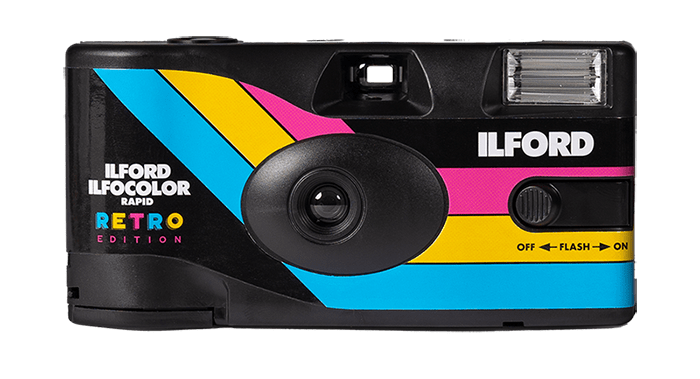 Ilford Einwegkamera Ilfocolor Rapid Retro Schwarz
2
---
27-Aufnahmen ISO 400 Farbnegativ-Film
Die ILFORD ILFOCOLOR Rapid Einwegkamera ist mit Farbnegativfilm geladen und macht 27 Bilder. Der schnelle Farbfilm mit zusätzlichem Biltz macht die Kamera zum kleinen praktischen Begleiter für alle Situationen - drinnen oder draussen!

Blitz
Die Kamera wird ist bereits mit AAA Batterien ausgerüstet und der Blitz ist stets in 15 Sekunden bereit.

Fokussierfreies Weitwinkelobjektiv (31mm)
Die Kamera hat einen optischen Sucher und einem moderaten Weitwinkelobjektiv mit einer Brennweite von 31mm. Die Blende ist fix bei f11 und die Belichtungszeit liefert mit 1/125 jederzeit scharfe Bilder.

Filmlook
Die Kamera macht den einzigartigen Einwegkamera Look mit verträumter Unschärfe, Korn und satten Farben.



Details
Filmformat: 35mm Film
Anzahl Bilder: 27     
Filmempfindlichkeit: ISO 400
Objektiv: 31 mm – F=11, 1 Element
Fokussierung: ohne Fokus – 1m –  ∞
Verschluss: 1/125s
Sucherfeld: 70% des Bildes
Blitz: Eingebaut – 15 sek Ladezeit
Batterie: 1 x AAA Alkaline Batterie (inkludiert)
Dimensionen: 110mm (W) x 55.3mm (H) x 33.5mm (L)
Technical Specifications
OPTICAL LENS 31mm, F=11 , 1 element
FOCUSING Focus Free, 1m – ∞
SHUTTER SPEED Shutter 1 / 125s
FLASH TIME Built-in Flash Push Switch – 15s recycle                            
FILM TRANSPORT: Manual wind and rewind
FILM SPEED: ISO 400
FILM FORMAT: 35mm colour (pre-loaded)
To install this Web App in your iPhone/iPad press
and then Add to Home Screen.