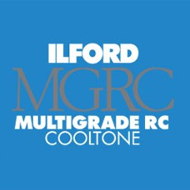 Ilford MGRCCT Cooltone 44M 20.3 x 25.4 cm / Pearl 100 sheets
Ilford MGRCCT Cooltone 44M 20.3 x 25.4 cm / Pearl 100 sheets
2
---
ILFORD MULTIGRADE RC Cooltone hat den gleichen Tonwertumfang mit brillanten Weissen, fein abgestuften Grauwerten und satten Schwärzen wie das Schwarzweisspapier
MULTIGRADE IV RC DeLuxe, besitzt aber einen deutlich kühleren Bildton. Sowohl der Träger als auch die Emulsion wurden angepasst, um von den Lichtern bis zu den Schatten einen stimmigen, kühlen, "technischen" Bildeindruck zu geben. MULTIGRADE RC Cooltone hat einen mittelstarken Träger mit 190 g/m² Flächengewicht. Es ist verfügbar in den gängigen Blattkonfektionierungen in zwei Oberflächenversionen: glänzend (1M) und Pearl (44M).
ILFORD MULTIGRADE IV RC Cooltone kann sowohl in der Schale als auch in automatischen Papierentwicklungsmaschinen verarbeitet werden. Bei der Schalenverarbeitung ist darauf zu achten, dass die Entwicklungszeit gegenüber anderen MULTIGRADE-RC-Papieren etwas verlängert wird.
Weitere Informationen und Anleitungen findet man in unserer Sammlung von technischen Unterlagen.
To install this Web App in your iPhone/iPad press
and then Add to Home Screen.