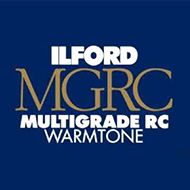 Ilford MGRCWT 1M 12.7 x 17.8 cm 100 sheets glossy
Ilford MGRCWT 1M 12.7 x 17.8 cm 100 sheets glossy
2
---
ILFORD MULTIGRADE RC Warmtone ist ein hochwertiges Gradationswandel-Schwarzweisspapier mit warmem, durch Wahl des Entwicklers steuerbarem Bildton auf warmweißem Grund. Träger wie Emulsion wurden so konzipiert, dass sich von den Lichtern bis zu den Schatten ein harmonischer warmer Bildeindruck ergibt. MULTIGRADE RC Warmtone eignet sich besonders gut zum Tonen; vor allem Schwefeltoner liefert wunderschöne Brauntöne. Es hat einen kunststoffbeschichteten Papierträger (= PE- bzw. RC-Papier) von 190g/m² Flächengewicht.
Mit ILFORD MULTIGRADE RC Warmtone stehen auf jedem Blatt sämtliche Gradationen von 00 bis 5 zur Verfügung. Der jeweils unterschiedliche Kontrast wird – wie bei anderen ILFORD MULTIGRADE-Papieren – durch Farbfilterung des Vergrößerungslichts erzeugt. MULTIGRADE RC Warmtone ist sowohl für herkömmliche Schwarzweissnegative wie für ILFORD XP2 Super-Negative geeignet. Es ist in den meisten gängigen Blattformaten in den Oberflächen 1M (glänzend) und 44M (Pearl) erhältlich. Es kann sowohl in der Schale als auch in automatischen Papierentwicklungsmaschinen verarbeitet werden.
Dokumente
(Englisch)
Weitere Informationen und Anleitungen findet man in unserer Sammlung von technischen Unterlagen.
To install this Web App in your iPhone/iPad press
and then Add to Home Screen.