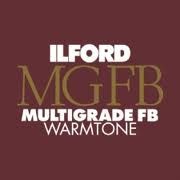 Ilford MGFBWT 1K 30.5 x 40.6 cm 10 Blatt glossy
Ilford MGFBWT 1K 30.5 x 40.6 cm 10 Blatt glossy
2
---
ILFORD Multigrade Warmtone FB Baryt Warmschwarzes Variokonstrast- Baryt-Papier. Gradationswandelbares Barytpapier. Kartonstark mit warmem Bildton. Anders als beim ADOX Fine Print Polywarmton erzeugt Ilford den Warmton des Papieres nicht über eine echte Warmton-Emulsion sondern durch die Zugabe von Farbstoffen in die Emulsion. Dadurch ist es empfindlicher und hat eine ganz eigene Charakteristik. In alternativen Verfahren wie z.B der Lith- Entwicklung verhält es sich eher wie ein Kalttonpapier. Papier geht oft noch bei orangefarbigen oder gelblichen Dunkelkammerbeleuchtungen wo unsere Papiere verschleiern.
Dokumente
Weitere Informationen und Anleitungen findet man in unserer Sammlung von technischen Unterlagen.
To install this Web App in your iPhone/iPad press
and then Add to Home Screen.