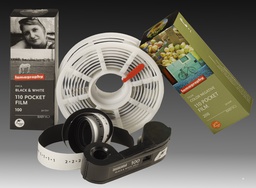 JOBO #1502 tank reel 16mm / 110 film
JOBO #1502 tank reel 16mm / 110 film
2
---
Analog is not only cool and more authentic than digital - it also offers a multitude of different facets. There are always new films. ADOX, CineStill and KODAK keep stimulating the market with new film material. Photographs are not only taken on 35mm film. In addition to medium format and sheet film, the 110 pocket film has reappeared on the market. LOMO offers 110 pocket film in many variants.
Of course the 110 pocket film is not entirely new. The 16mm wide film packaged in plastic cassettes was introduced by KODAK in 1972. And of course JOBO offered the corresponding film reels with a width of 16mm for this film format back in the days. Over the past few years, however, the format has been reintroduced to the market. Along with the reappearance of 110 pocket came the corresponding inquiries for JOBO to offer the reel #1502 again. After all, what good is a cool film if the customer and even some laboratories have trouble developing the film.
Luckily, JOBO found a way to recreate this spiral, which can be used in the 1500 tank system to develop the 110 film. In the production of this special format, a number of extra manual steps are necessary to adapt the classic 1501 reel. So it is unavoidable that the price for the special 16mm format is twice the price of the 1501 reel for 35 mm film.
The question how to get 110 pocket film developed now belongs to the past. Home development is almost a breeze, at least for Black and White. And the color film development can be perfect in the JOBO processor - whether in the home laboratory or at an external service provider.
The 16mm reel #1502 for the 110 pocket film is compatible with all JOBO tanks of the 1500 series.
To install this Web App in your iPhone/iPad press
and then Add to Home Screen.