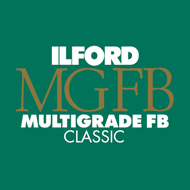 Ilford MGFB 1K 30.5 x 40.6 cm 10 sheets glossy
Ilford MGFB 1K 30.5 x 40.6 cm 10 sheets glossy
2
---
Das neue Papier ILFORD MULTIGRADE FB CLASSIC weist Vorteile gegenüber seinem Vorgänger auf, ILFORD MULTIGRADE IV FB FIBER:
• Verbesserte Maximaldichte (Dmax)
• 50 % kürzere Spüldauer, spart Wasser
• Schneller (kürzere Belichtungszeiten)
• Engere Geschwindigkeitsbeziehung zwischen Gradationsstufen
• Gleichmäßigere Trennung der Gradationsstufen
• Erweiterter niedriger Kontrast mit Weichfiltern (00 Ende)
• Schärfere Bilder
• Schnellere Bildentwicklung während der Bearbeitung
• Bessere Tonungseigenschaften bei der Oberfläche 1K (glänzend)
Für dieses Papier werden geringere Belichtungszeiten benötigt, aber sein allgemeines Handling mit Farbfilterung und Bearbeitung ist identisch mit MG IV FB, hat aber zusätzlich noch den Vorteil einer kürzeren Spülzeit.
Dokumente
Weitere Informationen und Anleitungen findet man in unserer Sammlung von technischen Unterlagen.
To install this Web App in your iPhone/iPad press
and then Add to Home Screen.