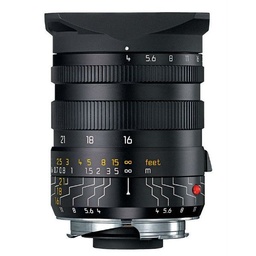 LEICA WIDE-ANGLE-TRI-ELMAR-M 16-18-21mm f/4.0 ASPH
6,080.00

 CHF
6,080.00

 CHF
LEICA WIDE-ANGLE-TRI-ELMAR-M 16-18-21mm f/4.0 ASPH
2
---
Das Superweitwinkel-Objektiv mit drei Brennweiten
Kompakte Hochleistung
Mit seinem beeindruckenden Bildwinkel von 107° erobert dieses Objektiv die 16-mm-Superweitwinkel-Fotografie in perfekter Leica M-Manier. Durch minimale Verzeichnung und kaum wahrnehmbare Bildfeldwölbung ist es selbst in der 16-mm-Stellung noch für sehr anspruchsvolle Architekturfotografen zu empfehlen.
Das Tri-Elmar-M 1:4/16-18-21 mm ASPH. vereint drei Superweitwinkel-Brennweiten in einem kompakten Objektiv.
Technische Details
Die ultrakompakte Bauform wird durch zwei asphärische Linsen möglich. Ein neues Design der Innenfokussierung verbessert die Qualität im Nahbereich durch Anwendung des Floating-Element-Prinzips erheblich. Bei hyperfokaler Fotografie lässt sich daher schon ab 0,33 m eine brillante Schärfentiefe erzielen.
Weitere Informationen und Anleitungen findet man in unserer Sammlung von technischen Unterlagen.
To install this Web App in your iPhone/iPad press
and then Add to Home Screen.