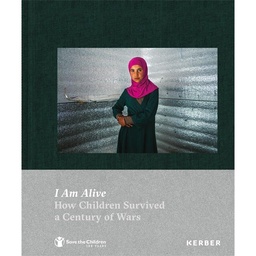 Dominic Nahr - I Am Alive - How Children Survived a Century of Wars (1. Edition)
Dominic Nahr - I Am Alive - How Children Survived a Century of Wars (1. Edition)
2
---
I Am Alive - How Children Survived a Century of Wars
426 million children grow up in war zones today. It is children like these that Save the Children has been protecting since 1919. For its 100th anniversary, the world´s largest independent children´s rights organization and the Swiss photojournalist Dominic Nahr went on a worldwide journey to find the "children of war" of the past 100 years. After two years of production, the book I Am Alive gathers eleven stunning reportages that provide hope – from the lively 107-year-old Erich Karl, a survivor of the First World War, to the newborn Rohingya girl Rajiya. All contemporary witnesses experienced a childhood in war and were able to survive with the help of Save the Children. This touching illustrated volume tells the stories of their fates, of everyday life in war, of escape and persecution, but also how the support they received shaped their lives up until adulthood.
The photographer Dominic Nahr chooses a visual language that merges time and place. He interweaves portraits and photojournalism, current and historical material, colour and black and white, analog and digital images. Each survivor is also assigned a guest author, such as the German Federal Minister for Economic Cooperation and Development Dr. Gerd Müller, violinist Anne-Sophie Mutter, former UN Secretary-General Ban Ki-moon from Korea, Danish Executive Vice-President of the European Commission Margrethe Vestager, Nigerian Nobel Prize for Literature winner Professor Wole Soyinka, Iranian writer Amir Hassan Cheheltan and legendary British war reporter Jon Swain.
Guest authors
Anne-Sophie Mutter, Ingo Zamperoni, Jon Swain, Anne Watts, Margrethe Vestager, Ban Ki-moon, Professor Wole Soyinka, Mayte Carrasco, Marcel Mettelsiefen, Ulrike C. Tscharre, Amir Hassan Cheheltan, Dr. Gerd Müller
December 2020
ISBN 978-3-7356-0635-8
22 × 26,5 cm
324 Pages
102 colored and 60 b/w illustrations
Hardcover
Languages: English
Editor:Save the Children
Text by Bertram Job - based on Interviews und Reportage by Anna Mayumi Kerber
Design by mischen, Harri Kuhn, Berlin
Bilder
Weitere Informationen und Anleitungen findet man in unserer Sammlung von technischen Unterlagen.
To install this Web App in your iPhone/iPad press
and then Add to Home Screen.