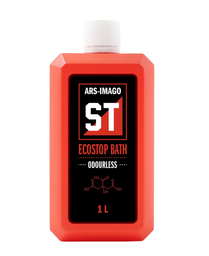 ARS-IMAGO ST - ECOSTOP BATH ODOURLESS 1 liter
ARS-IMAGO ST - ECOSTOP BATH ODOURLESS 1 liter
2
---
Das ars-imago Ecostop ist ein universell einsetzbares geruchsloses Stoppbad für Filme und Schwarzweisspapiere.
Ein Stoppbad wird empfohlen, wenn die Entwicklung genau gestoppt werden muss. Zusätzlich hilft ein Stoppbad, die Verunreinigung des Fixierbades zu reduzieren.
Processing instruction
MIXING INSTRUCTION: ARS-IMAGO ST - ECOSTOP BATH ODOURLESS is a liquid concentrated chemical. Dilute with water before use. Recommended diluition: 1+19 (19 parts water + 1 part chemical = working solution).
TEMPERATURE: Temperature range 18°­24°. The temperature of the stop bath should not differs more than 5° from the developer temperature.
AGITATION: Agitate continuously for the processing time.
ars-imago chemicals
4 (more) good reasons to develop your films in black and white!
The new line of chemical products manufactured and distributed by arsimago, dedicated to all analog photographers from professionals to those who are about to enter for the first time in the darkroom, was born to a specific need: expand the use of film and the traditional analogue techniques, looking to the future .
Why?
The answer is simple: because all users required it, to innovate and remain vigilant on photographic practice that is at the heart of our passion, to guide the end user in the wide world of analog products and offer quality and alternatives.
How?
Through research and the identification of simple and professional basic products for the development and printing.
All the ars-imago chemicals were subjected to empirical tests described with transparency to the user. The products have specific characteristics that can be followed according to the working standards or according to user testing, including through dialogue and verification with the ars-imago staff.
The technical documentation of our products are available in digital format and the documents can be expanded through the practice of users and empirical tests coordinated by arsimago increasing the amount of information that can be shared to our customers.
Why you should choose the ars-imago chemicals?
To purchase products for professional analog photography at a fair price and accessible without losing the guarantee of big brands.
To support our project and our research of specific products promoted by users: the line of ars-imago chemicals will not be limited to the basic chemicals but will explore the many possibilities offered by analogue photography.
Technical data
ARS-IMAGO ST Safety datasheet (pdf)
Weitere Informationen und Anleitungen findet man in unserer Sammlung von technischen Unterlagen.
To install this Web App in your iPhone/iPad press
and then Add to Home Screen.