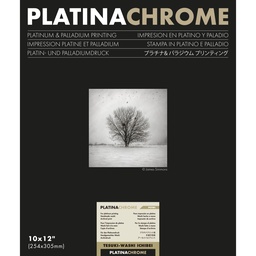 PLATINACHROME Tesuki-Washi Ichibei - A3+ - 32.9 x 48.3cm (10 sheets)
PLATINACHROME Tesuki-Washi Ichibei - A3+ - 32.9 x 48.3cm (10 sheets)
2
---
PCTWI ist ein für den Platin / Palladium Druck optimiertes Papier, das auf handgeschöpftem Japanpapier von ICHIBEI IWANO basiert. ICHIBEI IWANO ist ein Meister in der Herstellung des Washi Papiers. Er bewahrt die traditionelle japanische Art der Washi-Herstellung und verarbeitet ausschliesslich japanisches Kozo von Hand. Basierend auf diesem edlen Fabrikat, stellt ILFORD JAPAN mit seiner eigenen Technologie ein für Platindrucke perfekt geeignetes Papier her. Die Textur und Qualität von PLATINACHROME TESUKI-WASHI ICHIBEI ist einmalig und macht aus Bildern Kunstwerke!
Merkmale:
Hohe Robustheit und weiche Textur aus handgeschöpftem Japanpapier
Traditionelles japanisches Papier aus 100% seltenem "Daigo-Nasu Kozo"
Papierstärke: 90g / m2
Säurefrei
Weitere Informationen und Anleitungen findet man in unserer Sammlung von technischen Unterlagen.
To install this Web App in your iPhone/iPad press
and then Add to Home Screen.